Becoming a car owner is always exciting, but with great power comes great responsibility. Keeping up with regular Ford service is essential to keeping your trusty Ford vehicle on the road for as long as possible. 
When you visit Ford of Monroeville, we'll take you through some of the most important services you should keep up with throughout the years and how to get them done. Whether you need a simple tune-up or a complex repair, our skilled Ford service technicians will give your vehicle the high-quality care it deserves. 
Recommended Maintenance Services
Wear and tear on your vehicle are inevitable over time, but minor issues can worsen if you don't schedule regular service appointments for your vehicle.
Check out our complete service menu below to find the services you need:
Oil and filter change-$69.95
Full synthetic oil change-$139.95
Tire rotation-$19.95
Engine air filter change-$49.95
Cabin air filter change-$59.95
Mount and balance (one tire)-$28.95
Mount and balance (four tires)-$112.00
Brake fluid service-$169.95
Engine tune-up-$14.95
Emission system cleaning-$189.95
Power steering check-$109.95
Transfer case check-$119.95
Front differential check-$149.95
Rear differential check-$179.95
Radiator system check-$179.95
Battery service-$39.95
Four-wheel alignment-$139.95
Multi-Point Inspection Offerings
When you want to make sure your Ford parts and systems are working properly, our service team can complete a comprehensive multi-point inspection. During a multi-point inspection, we'll examine our entire vehicle with each area rated according to its condition. 
The following elements are checked during a multi-point inspection:
Body condition

Tire condition and wear

Lights

Tire tread depth 

Windshield wipers

Brakes and document wear

Battery and cables

Operating system

Fluids

Air filter

Transmission fluid

Belts and hoses

Power steering fluid

Cabin air filter

Radiator fluid

A/C output

Brake fluid

Shocks and struts

Washer fluid

Exhaust system

Drive axle/boots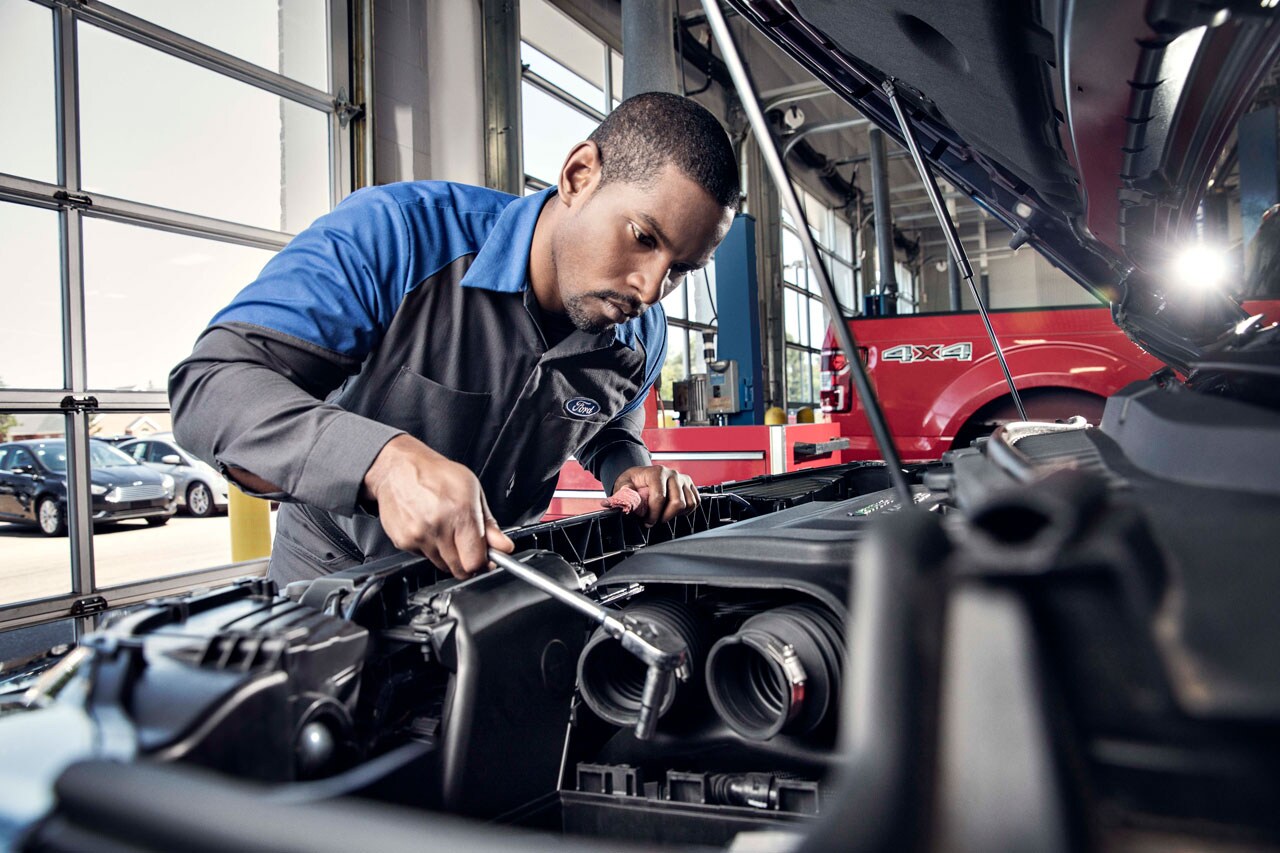 You may receive a survey from Ford asking to grade our work and performance. If there is any reason you cannot mark "Completely Satisfied," please feel free to contact Megan Gordish at (412) 457-7501. If you have any questions about the services we provide, reach out to our Ford dealership today.