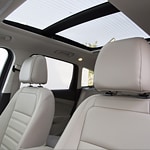 Our Ford of Monroeville family loves to help our customers prepare for grand adventures. We find that everyday experiences are another exciting way to keep the spirit of discovery alive once vacation time is over. The Ford Escape is a popular crossover SUV equipped with amenities that can bring excitement to everyday driving.
Sometimes, that fastest route away from the doldrums is a simple glance. We recommend taking time to look up through the Escape's Panoramic Vista roof. Once you begin to look up at the vast expanse of stars, your perspective will shift as your prospects improve.
Music has tremendous power to lift spirits and calm frazzled nerves. No matter which soundtrack you choose to brighten your day, it will sound fuller and more vibrant broadcast through the Escape's ten Bang & Olufsen speakers. Your everyday Monroeville, PA drive can be an exciting adventure in the Ford Escape.