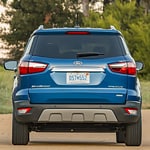 When you want to conserve fuel, the right vehicle can help. The Ford EcoSport is one great option; this popular compact SUV is made for efficiency, so you can go farther on every tank.
In the EcoSport, efficiency starts in the engine. The standard 1.0L EcoBoost engine delivers — this turbocharged, direct-injection model makes the most of each tank. Plus, it offers a smooth ride in Monroeville, PA, or on the highway.
To take your fuel savings to the next level, the EcoSport comes with auto start/stop technology. This unique feature shuts off the engine every time you pull up to a stoplight or you sit idle in the driveway. When you take your foot off of the brake, it starts again automatically for instant takeoff. See how easy it is to use by coming in to Ford of Monroeville to take the Ford EcoSport out for a drive.