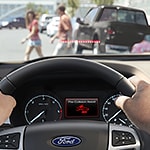 The Ford Ranger is a very popular pickup truck that combines style, performance, and functionality. The overall design of the Ford Ranger helps to make it one of the bestselling trucks each year. There are a variety of features with the 2020 model that buyers love.
One great exterior feature is the low-angled windshield. This is a unique feature that you will not find in trucks every day. This allows air to flow over the roof to reduce wind noise and improve fuel efficiency.
The Ranger's interior also has a number of impressive features. This includes the very impressive Bang & Olufsen audio system, which is available with some of the higher trim levels. This provides very clear and loud audio, which is ideal for any music lover.
If you are looking for a pickup truck, you should come to Ford of Monroeville today to check out the 2020 Ford Ranger. Come in and you can test-drive to see it for yourself.