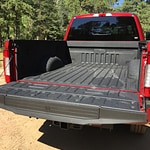 Ford produces several pickup trucks that look incredible. The right truck presents an image and a sense of style many buyers prefer. Looks, however, are only part of the deal. The buyer may rely on the truck for jobs that require a vehicle with enormous power. The Ford Super Duty is likely up for those jobs.
Choosing the appropriate engine is up to the buyer. Ford produces different engines for Super Duty models. Go with a 7.3L gas V8 or a 6.7L Power Stroke Turbo Diesel engine. The latter comes with 475 hp, and the former generates 430 hp. Pick the one best for you and the truck's intended jobs. The Super Duty garners high marks for its towing and hauling capabilities. The power driving towing and hauling is immense. Capabilities do derive from the specific engine and other factors.
Find out how super the Super Duty is. Take one on a test drive after visiting Ford of Monroeville.