The cooler weather is pouring in, and before you know it, winter will be here. How can you get your Ford ready? Winter tires can be an important step in getting your Ford prepped and ready for winter. At Ford of Monroeville, you can trust us for advice about new tires near Irwin, PA, and what kind work right for your Ford car, truck, or SUV. When you need to schedule winter tire service near New Kensington, whether it's for rotating the tires or checking the tire pressure, you can depend on us for those types of services, too.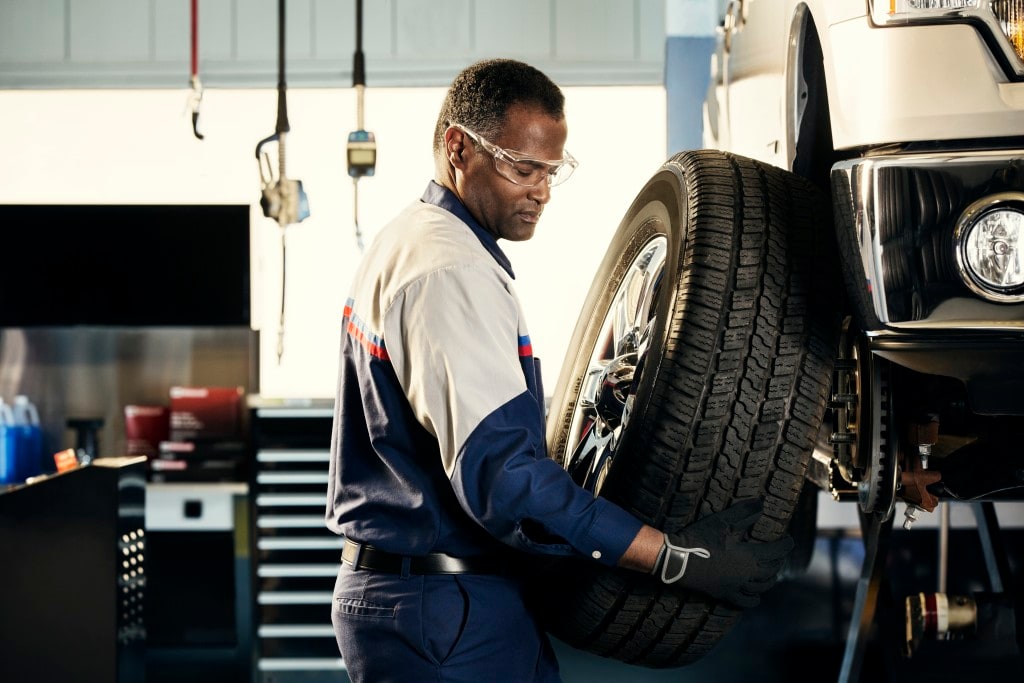 We know the ins and outs of tires here at the Ford of Monroeville Service Center, and we can help you with maintenance information about your Ford. Our stock of tires ranges wide, with many different brands to choose from like Michelin®, BFGoodrich®, and more, and when you go to pick out winter tires for your Ford near Pittsburgh, we can provide you with insightful information about the type of tire that can work ideally. Here are some helpful details to get your tire search going for your Ford this upcoming winter.
Winter Tires for Your Ford
Having the appropriate tires on your Ford for conquering winter tasks is important, and we can help you decide what can be a great fit. With the challenging weather and elements that can come with that weather, you need tires that can grip the road for a secure drive. Also, there are your winter activities to consider; this can have a role in the tires you decide. From water to snow and ice, equipping your Ford with suitable winter tires can make a difference.
Your Ford may be fine with all-season tires, or it could be best to opt for winter tires. How do you know which is for you? If you have a Ford SUV like a Ford Escape or Edge and mainly do regular traveling on city or suburb streets, all-season tires for your Ford near Murrysville can handle the paved roads in winter and perform great in different types of conditions. All-season tires can provide you with substantial all-weather capability.
Get Winter Tires for outdoor activities and traction in snow
Are you going to be doing a lot of strenuous activities during winter with your Ford? Winter tires have a construction that can handle extreme temperatures and trekking conditions. Do you own a Ford truck, and are wondering what tires to get your pickup this winter season? If you want to be able to easily travel on winter roads throughout the area that are full of ice or covered substantially with snow, your truck like a Ford Ranger with winter tires can be a secure combination.
Do you own a Ford F-150 or Ford F-250 and are going to be doing a lot of trailering this winter like towing your snowmobiles? The depth of the tread on winter tires and the pattern that winter tires get, allow for the deep snow or water to pass through the treads seamlessly, as well as can generate a greater grip in slippery settings.
Drive through the cold this winter with confidence and select your all-season or winter tires for your Ford today. Opt for the tires that will suit your driving and the scenery you travel in with your Ford and ask the technicians at our Ford dealership about the tires that will pair right for your impending winter traveling. Don't wait until the weather gets too cold, and the conditions are icy to get those winter tires on, schedule service ahead of time to get your Ford prepared for winter before winter sets in.
Order your car's new tires and complete all of your winter car preparation maintenance at Ford of Monroeville!